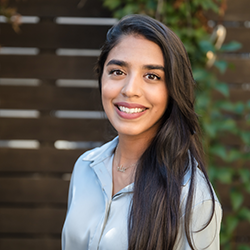 A true windy city girl, Dr. Hana Naveed was born and raised in Chicago, Illinois. She earned her bachelor's degree in Health Sciences with honors and accomplished her doctorate of Chiropractic from National University of Health Sciences in Lombard, Illinois.
From her early teenage years, she had a strong passion for holistic medicine, seeking out natural remedies for everyday ailments, skin care, and nutrition. This later developed into a full-fledged desire to help others heal the whole body naturally, and after extensively researching the medical field, Dr. Hana knew chiropractic care was her calling.
Dr. Hana prefers a hands-on, patient centered approach in which she helps her patients make sense of the 'why' and gives them a lasting solution to the core of their issue to keep symptoms from recurring. Although she sees a diverse group of patients seeking care for an array of illnesses, Dr. Hana especially enjoys working with patients dealing with chronic conditions, postural tension, headaches, and those striving to maintain their health.
On days she is not in the office, she loves to spend quality time with her husband and 2 adorable fur babies and engaging in hobbies such as applying henna and reading a good book.
Contact Dr. Hana: [email protected]