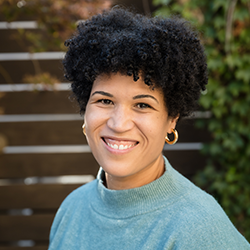 Dr. Megan Thompson is a Midwest native who has lived in Chicago since 2010.  Dr. Thompson has received chiropractic care since a young age for pain relief and increased awareness of body mechanics as a student-athlete.  She loved visiting the chiropractor and felt better after her treatments. As she started thinking about careers, she felt drawn to the chiropractic profession due to her positive experiences and its patient-centered approach of healthcare. She earned her Doctorate of Chiropractic from National University of Health Sciences in Lombard, Illinois.
Her philosophy is that no two patients are the same, so it is key to tailor treatment to the individual. She finds it imperative to take time to educate patients and make sure they understand what is happening in their body. She loves to treat a variety of patients from acute pain to workplace ergonomics, but has a passion for pre-natal and post-partum care.
When she is not in the office, she can be seen walking around the neighborhood with her partner and twin little kids, baking, or practicing yoga.
Contact Dr. Megan: [email protected]